Los
Oscars 2017
nos han dejado grandes momentos para el recuerdo. Una gala sin duda
marcada por la reivindicación política
, los mensajes al presidente de EE.UU, la emoción, mucha música y anécdotas que ya están dando la vuelta por toda la red, incluyendo el mayor error de la historia.
Todos los mensajes de Jimmy Kimmel a Donald Trump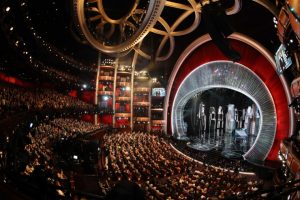 La gala presentada por Jimmy Kimel ha estado marcada de principio a fin por las indirectas del presentador a Donald Trump. «El país está dividido ahora mismo» han sido las primeras palabras del humorista, que luego refiriendo a Hupper, la actriz francesa nominada por Elle, ha dicho: «Me encanta que te haya dejado entrar el Ministerio del Interior».
Haciendo un guiño a la polémica de Meryl Streep con el presidente, Jimmy ha pedido «un inmerecido aplauso para ella» arrancando la ovación de todo el teatro, a lo que ha añadido «¿No es de Ivanka ese vestido?».
«No hay espacio para noticias falsas. Bronceados falsos sí, pero nada de noticias falsas» ha continuado el presentador en su discurso.
 La actuación de Justin Timberlake
Una gala marcada por el espectáculo no podría comenzar de otra manera que no fuera con una actuación del gran Justin Timberlake. El artista ha dado el pistoletazo de salida levantando a todos los asistentes de sus butacas al ritmo de Can't stop de feeling. Pero uno de los momentos más álgido de su actuación ha sido cuando el cantante se ha puesto a bailar al lado de su mujer, Jessica Biel, quien le ha seguido el ritmo haciendo que al resto del mundo se nos cayera la baba.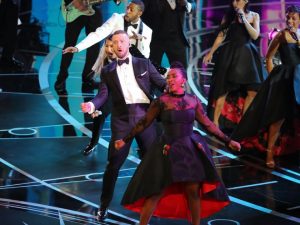 Una lluvia de golosinas 
Durante tres ocasiones los actores se han llevado un susto cuando del cielo del teatro Dolby han empezado a caer caramelos y galletitas, una buena manera de amenizar la gala y mantener el apetito. Toda una lluvia de dulces digna de cualquier película de Hollywood.
Un grupo de turistas se cuela en la gala
Pero la verdadera sorpresa se la han llevado un grupo de turistas a los que han invitado a pasar al teatro y conocer de cerca a sus actores favoritos. Los turistas han aprovechado la oportunidad para sacar sus móviles y retratar el momento para la eternidad, a la par que sin salir de su asombro saludaban a las estrellas de Hollywood. Un momento que no ha tardado en hacerse viral, aunque han sido muchos los que han dudado su naturalidad.
Una gala marcada por la música
A la aplaudida actuación de Justin Timberlake le ha seguido la de Lin-Manuel Miranda y Auli'i Cravalho, que han interpretado How Far I'll Go, el tema principal de Vaiana, película de animación nominada al Oscar. Con una puesta en escena espectacular ha conseguido coronarse como una de las mejores actuaciones de la noche.
Quien también se ha subido al escenario para cantar ha sido Sting, que ha deleitado al público con The Empty Chair, del documental Jim: The James Foley Story y nominada a Mejor Canción Original, con una luz íntima que solo iluminaba al cantante.
Pero el numero musical por excelencia ha llegado de la mano de Ryan Gosling y Emma Stone, que han presentado las canciones nominadas de La La Land, interpretadas por John Legend. Un número que ha conseguido transportarnos a la película y que ha contado con una puesta en escena impresionante.
Javier Bardem sale al escenario junto a Meryl Streep
Sin duda barriendo para casa, otro de los momentos más destacados de la gala para nosotros ha sido cuando Javier Bardem, el representante español en Los Oscar, ha entregado el premio a Mejor Dirección de Fotografía al lado de la gran Meryl Streep. Sin duda una emocionante escena para los españoles amantes del cine.
La emoción de Viola Davis al recoger su Oscar
Viola Davis se ha hecho con su primer Oscar como Mejor Actriz Secundaria por su papel en Fences y la emoción de la actriz no ha pasado desapercibida para nadie.
«Hay un lugar en el que se reúnen todas las personas con el mayor potencial y es el cementerio. La gente me pregunta '¿qué historias quieres contar Viola?', y yo les digo tienen que exhumar esos cadáveres e personas que soñaban a lo grande y nunca lograron sus sueños. Yo me he convertido en un artista y gracias a dios que lo he hecho porque somos la única profesión que celebra lo que es vivir la vida. Así que esto es para August Wilson que sacó estas historias de gente común. (…) Y oh, capitán mi capitán, a Denzel Washington. Gracias por poner a August y a dios al volante. Y gracias a las personas que me enseñaron lo que está bien, lo que está mal, cómo ganar, cómo perder, mis padres. Y a mis hermanas. Gracias por toda la imaginación. Y a mi marido y a mi hija, mi amor, mi corazón. Cada día me enseñáis como querer, estoy contentísima de que seáis la base de mi vida» ha declarado entre lágrimas Viola en su discurso, uno de los más aplaudidos y emotivos de la noche.
Volver a ver a Leonardo DiCaprio sobre el escenario
El año pasado después de ser el eterno nominado, DiCaprio por fin se llevó la estatuilla a casa y el momento paso a la historia de los Oscar. Por eso volver a ver a Leonardo sobre el escenario ha sido uno de los momentos más comentados de la noche, aunque en esta ocasión subiera para hacer entrega al Premio a Mejor Actriz, que se lo llevado Emma Stone, quien no ha podido ocultar sus lágrimas al recoger el premio.
Warren Beatty y Faye Dunaway, vuelven Bonnie & Clyde
Quienes también han vuelto a subirse sobre el escenario en una gala de lo más nostálgica han sido Warren Beatty y Faye Dunaway, que han celebrado el 50º aniversario de la mítica Bonnie and Clyde.
'La la land', ganadora por error
Pero sin duda el gran momentazo de la noche ha sido cuando Warren y Faye han entregado el premio más importante y por error se lo ha entregado a La, La, Land, que se proclamaba ganadora de la noche llevándose 7 de 14, pero el desconcierto sobre el escenario vaticinaba que algo estaba pasando. «¿Qué has hecho, Warren?», le ha dicho Jimmy Kimmel, que ha intentado solucionar el error y ha anunciado que la verdadera ganadora a Mejor Película era para Moonlight.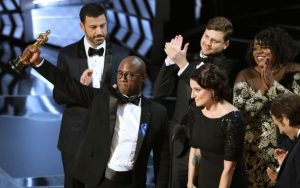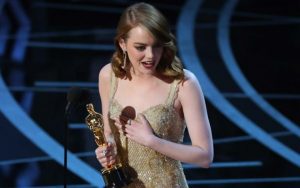 Fuente: EFE / LOS ÁNGELES | 27/02/2017